Development trend of China feed industry
Since the reform and opening up, accelerate the development of feed industry to seize the planting, aquaculture booming historical opportunity, integration of animal nutrition, processing of agricultural products of modern agricultural science and technology achievements, actively develop the use of domestic and international feed raw material resources, crop production, feed supply, guarantee to improve breeding efficiency, play an important role in promoting the transformation of the mode of production in the pull, make important contribution to the construction of modern animal husbandry. It can be said that there is no modern feed industry, there is no modern industry.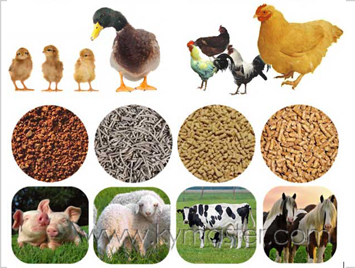 At present, our country has become the world's first feed, feed more than 2 tons annual output of goods, including the completion of the feed processing, feed raw materials, feed additives, feed machinery, complete industrial system. After years of rapid growth, China's industrial feed in aquaculture popularization rate has reached a very high level, such as in the breeding of pigs is about 75%, in the egg and poultry and poultry breeding in more than 90%. With the comprehensive technical progress of the breeding industry, feed utilization efficiency in the next 5 years is expected to increase by more than 3%.
Feed machinery and equipment technology development is also very good to promote the rapid development of feed industry, with the feed processing enterprises to the group, large-scale development, large-scale processing equipment will be developed large-scale feed. The degree of mechanization and self motion will be further improved.
Overall, to improve the level of automation and complete sets of equipment automatic control is the development of feed machinery manufacturing industry, the focus of the work.